Best Views In and Around Porthleven
Published: Monday 5th Jan 2015
Written by: The Niche Retreats Team
It would be very easy for us to say that you needn't even leave your Niche Retreat if you want to enjoy good views in Porthleven, since they are superbly situated at great sea-view locations. However, there is in fact a whole wealth of stunning vistas and other Cornish beauty for you to enjoy outside the door of your retreat, and we encourage you to explore it.
Kynance Cove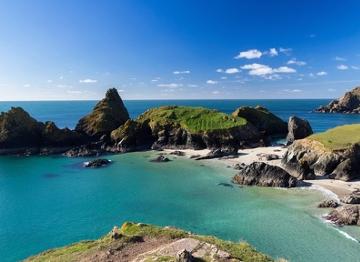 Running south along the coastline from Porthleven you will find one of the country's most well-known and celebrated coastal areas – The Lizard Peninsula. One of The Lizard's more famous coves is Kynance Cove, which can be found on the eastern side of Mount's Bay. This cove is reputed to have been visited by great British poets such as Tennyson, and has been described by the BBC as "one of the most beautiful stretches of coastline in the Southwest." Kynance Cove is well known for its array of unusual flora and fauna, as well as its many perspectives, including stunning beaches, rock pools, cliff scenery and more. If you're looking for a truly diverse local vista to enjoy, then Kynance Cove is absolutely worth your time.
Loe Bar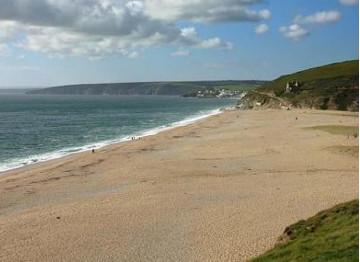 If you're looking for something steeped in local folklore, then you should walk over Loe Bar and see An Logh (commonly known as simply The Loe). It is the largest natural freshwater lake in Cornwall and is within the Cornwall Area of Outstanding Natural Beauty. Legend has it that The Loe is where Sir Bedivere cast the mythical sword of King Arthur, Excalibur. The area also has something of a spooky history, with some locals claiming that the lake claims a life every seven years. Regardless of superstition, Loe Bar and The Loe offer some of the finest views in the area, as well as many gentle walks suitable for families of all ages.
Porthleven Harbour
Finally, another fine local vista can be found by simply taking a stroll into Porthleven Harbour itself. This unspoilt fishing harbour was first developed back in the early 19th Century as a safe harbour for ships passing through the dangerous rocky region. From the harbour's pier, one of its many fine eateries, or from the higher ground surrounding it, you can gain access to views of Cornwall's most dramatic and beautiful seaside weather, including the sometimes savage Atlantic storms that batter the coastline each year.
With one of the longest coastlines of any county in the UK, Cornwall has its fair share of beautiful views and vistas, and Porthleven is no exception. You needn't wander far from your holiday cottage in porthleven to see some of the finest views that the entire region has to offer.