Spotlight on Pentire View, Cornwall
Published: Wednesday 28th Mar 2018
Written by: Leah Smith
Pentire View is a luxury property accommodating up to six guests with private parking for two cars and ideally situated to explore Cornwall with family and friends. Close to Padstow, Wadebridge and the local sandy beaches; yet set in relaxing rural surroundings away from the maddening crowd.   With its contemporary modern eco-design, it makes the best use of the sun providing a light and airy relaxing living space with solar powered heating and a surprisingly welcoming homely warmth during colder seasons.
There is a sun room on the ground floor adjacent to the fully-equipped kitchen and landscaped rear patio garden. If the weather is good you can catch some rays in the sun-trapped patio.  Either way, great to enjoy your morning coffee, newspaper and plan your day ahead.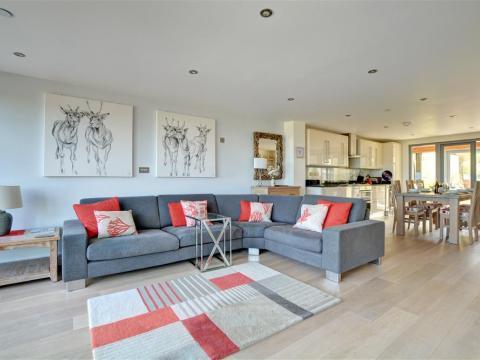 Pentire View is situated between Wadebridge and Padstow and is only a short drive from the seven Sandy Bays near Padstow:
Wadebridge
Once known as a thriving market town in the days where livestock were sold here, Wadebridge is now better known for its arts and crafts shops and a wide variety of independent retailers, meaning it stands out from many modern high streets these days!  Set alongside the river Camel, the town affords a range of activities and places to see - from historic houses to adventure parks, it has its own cinema ensuring that all ages are catered for. There is a great selection of restaurants, cafes, pubs and takeaways, serving a range of regional and international dishes so whatever your preference, you'll be spoilt for choice. If you're looking for a quality bottle of wine to go, Wadebridge Wines is an excellent place to go.  For those wanting to try something a little more active, you can have a go at sailing or other water sports, cricket, tennis, golf and bowls. There is also a leisure centre with facilities including a swimming pool. It is also a gateway to the Camel Trail - the old railway line which can take you one way to Padstow or the other way to Bodmin. 17 miles of traffic free walking, cycling and horse riding.  Leading to Padstow, the path wends its way alongside the riverbank through this Area of Outstanding Natural Beauty with its abundant wildlife. The estuary is a favourite stopping off point for migrant wading birds (up to 90 species) who feed on the fertile mud flats during their journey to and from the northern breeding grounds.
Padstow
Padstow is an historic fishing port with a maze of picturesque narrow streets of stone, colour-washed and slate cottages and a working harbour. The harbour is, of course, the pivot around which the whole town revolves and, because there is always something going on, visitors are drawn to the seats around the quay. There is something very therapeutic about watching the world go by from this interesting spot.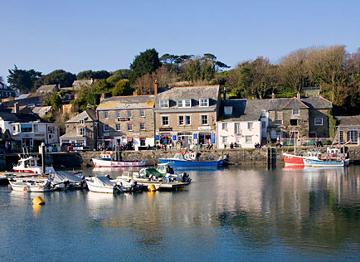 If you prefer you can relax, look around the shops and art galleries or treat your taste buds in the fantastic range of eateries. In recent years, Padstow has gained a reputation as a foodie's heaven, with many excellent restaurants, cafes and pubs.  The rise of celebrity chefs such as Rick Stein, Paul Ainsworth and Nathan Outlaw has helped this along.  Additionally, you can try your hand at the Seafood Cookery School, learning how to prepare and cook several fish dishes and other culinary delights.
There are many activities to enjoy in this area, such as regular boat trips, scenic walks along beautiful coastal paths, crazy golf or even a spot of fishing.  Also, only a short walk leads you to a beach in the estuary or why not hop on the ferry across the estuary to Rock.
Christmas in Padstow is a very special time when the town is decorated with numerous Christmas lights. Mid December is also the time for late night Christmas shopping when local bands, street buskers and the Padstow carollers take to the streets and many shops and pubs offer mulled wine and festive snacks. 
Within a short drive of Padstow, there are opportunities to go horse riding or go-karting. The area has no shortage of golden sandy beaches where you can go rock-pooling, surfing or swimming. TripAdvisor travellers voted Padstow and the surrounding area the 10th best beach destination in the UK.
The 7 Bays
1. Treyarnon Bay - A narrow but long sandy bay at low tide, with plenty to interest the young and old thanks to its surrounding rock pools. It has a natural pool which is big enough to swim but which is only accessible at low tide. Treyarnon features Trethias Island on the left-hand side (please watch the incoming tide).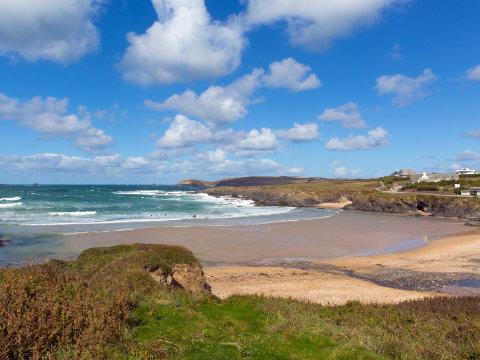 2. Porthcothan Bay - Huge sandy beach with sand dunes backing into it; when the tide is out far enough you can walk around to Goldenburn Cove.
3. Constantine Bay - A massive stretch of sandy beach backed by sand dunes and plenty of rock pools. A popular surfing beach.
4. Booby's Bay - Large sandy beach when the tide is out. Popular surfing beach accessed by following the coastal path down over the rocks (may not be suitable for wheelchairs or pushchairs).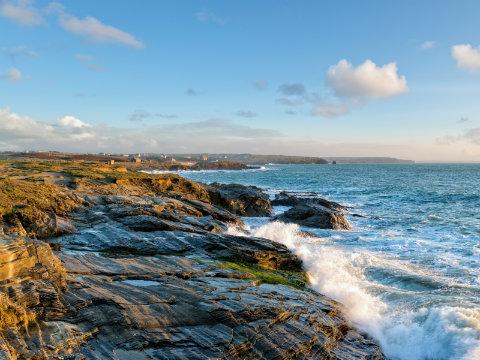 5. Mother Ivey's Bay - A pleasant and private sort of beach, access to Mother Ivey's Bay is via a twenty-minute walk along the coastal path from Harlyn Bay.
6. Harlyn Bay - Safe beach ideal for a family day out. There are different access points to Harlyn Bay; from the car park, from the road and from the coastal path (which may not be accessible or could be tricky at high tide).
7. Trevone Bay - A large popular sandy beach among families, that provides plenty of things to do. The West of the beach leads onto another rocky beach which includes a large natural tidal pool. Trevone Bay is accessed either via steps or a slope from the car park.
Then after a day's excursion, on your return to Pentire View, why not relax with a glass of wine or bubbly (or a hot drink if you prefer) whilst admiring the stunning countryside and Camel estuary views from the top floor lounge - ideal for stargazers at night time.