Strands View
Gunnerside, Yorkshire Dales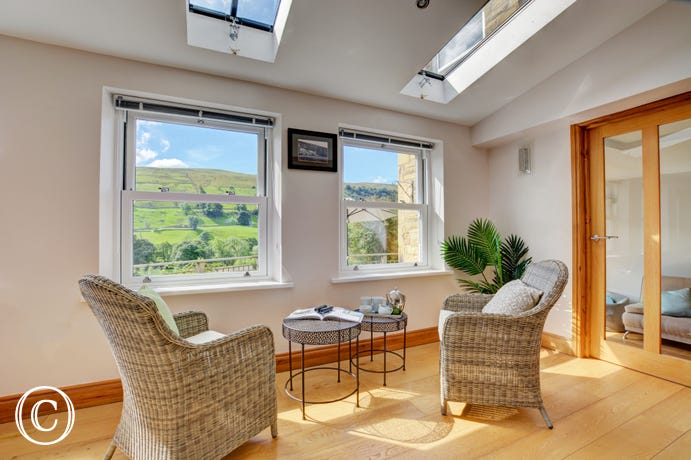 Special Offer

15% offer on stays until 23rd December 2023
£

1,397

per week

£

200

per night
6 Guests
3 Bedrooms
2 Bathrooms
2 Pets
Features
Beds & bedrooms
Bed linen provided
6 single Zip&Link beds
Appliances
Washing machine
Tumble dryer
Dishwasher
Range/Aga
Freezer
Bathrooms
3 WCs
Towels provided
En-suite bathroom
Bath
Shower
Special Features
Home office/working space
WiFi
Open fire or woodburner
Games room
Welcome pack
Countryside views
Electric car charging point
Outdoors
Garden or courtyard
Enclosed garden or courtyard
Barbecue
Private parking
Electric car charging point
Important - Please Note
House Rules
Please advise the bed set up for all Zip'n'Link beds at time of booking
No more than 2 pets
Check in: 16:00
Check out: 10:00
Description
Unforgettable Strands View - a 5-star stone barn conversion offering far-reaching views across the iconic Swaledale valley from every room!
Completely renovated, this property has style and sophistication throughout: from the luxurious underfloor heating to the elegant overhead lighting, and everything in between… With its glorious garden and terrace giving panoramic views, through to its warm and modern interiors, you will feel at home in an instant.
The cosy living room is the heart of the home, with plush sofas set around the large fireplace - perfect for curling up with a bottle of red wine. And spend your afternoons taking tea, or simply relaxing with a good book, in the soft seats by the picture windows of the oak-floored gallery – maybe enjoying a delicious slice of fruit cake with Wensleydale cheese from the nearby Hawes Creamery too?
For entertaining, the incredible bespoke kitchen incorporates a huge range cooker, superb appliances, and a large granite central island to make preparing a meal for friends or family simply a pleasure. The light-filled dining area, with views over the meadows to the River Swale, is ideal for enjoying a memorable meal - and planning tomorrow's adventure.
For the playful among you, the snug provides a games console and even a table football - while others of you may appreciate peace and quiet in the study area, with superfast Wi-Fi internet for getting a little work done, or otherwise even penning a new novel!
Upstairs, Strands View has three individually designed bedrooms, each having uninterrupted views over the meadows to the hills beyond. The luxurious master suite is the star of the show here, with its star-gazing skylight, fabulous rainfall shower and private dressing area. The two further bedrooms are just as spacious and inviting, with warm tones and filled with natural light. As for the master suite, their superb beds can each be prepared as super-king or twin beds to accommodate any group. And the family bathroom is perfect for a long, bubbly soak after a wonderful day walking or cycling in the Dales.
Strands View has countless options for a relaxed coffee, whether sitting on the comfy chairs of the oak gallery or at the picnic table on the lawn. An al fresco evening meal on the terrace is magical too: watching the sun set at the head of the valley before thousands of stars become visible on a clear night. And for a cosy addition, try pre-dinner drinks or games in the delightful summer house!
For outings, there's plenty to enjoy in the local area too. The picturesque villages of Gunnerside, Muker and Reeth, and the market towns of Richmond, Hawes and Leyburn, are nearby with excellent pubs, restaurants and tea rooms to try. The area boasts a wonderful choice of walks for all abilities, and the Coast-to-Coast walking trail and the 'Swale Trail' for family mountain biking both pass close to the property. Whether you'd like a gentle stroll, a longer hike or a day pedalling through spectacular scenery, simply step out of Strands View's front door to enjoy a beautiful route!
Reviews
Excellent cottage, good location with fantastic views of the countryside
This was our second visit and it's probably the favourite of all the holiday cottages we've stayed in over the years. Just one issue is the hot water and I'll speak to your office when back at work tomorrow.
When booking cottage it stated online that it was dog friendly and dog was allowed anywhere down stairs.When we got there we found a notice on the wall telling us our dog was to be kept to the kitchen.As the week went on the dog was getting more and more stressed so decided on Thursday we would come as our dog was getting more and more stressed.If we had known he was going to be confined to the kitchen we would not have booked this cottage.
First and foremost, this was a lovely holiday cottage and we really enjpyed our time there. Second, things do come up from time to time, whether you are home or traveling. But what made the difference for us was the responsiveness of your customer service team when we contacted you. Excellent communications and responses were greatly appreciated.
We are satisfied with every aspect of the holiday. The property was excellent and ideally suited to our needs. Communication good and booking arrangements efficient .a 5 star experience.
Fantastic home in a great location. Excellent walks from the door. We loved our walk to Reeth via the Swaledale Trail with coffee and cake at the cafe at the bike shop just outside Reeth. We hope to return as we all loved it here. Its a lovely house in a great location with a high standard of furnishings and decor. The layout of the house worked perfectly for us. We loved the numerous walks from the door and the great views from the house. We hope to return.
Lovely home! Beautiful location! What more could you ask for
Best holiday let we've stayed in. The yardstick by which all should be judged. Week was very wet but plenty to do. For a treat have lunch at the Tennant's Cafe/Bistro in Leyburn
The house is lovely and set in the most amazing countryside. I'd come again for sure. wonderful place to stay. Look forward to returning in the years to come
Thank you very much for having me. I really love the summer house, great for my water colouring. Walks were wonderful, especially through the fields and along the river. Hopefully we will be back soon.Enjoy life!
Fell in love with this place as soon as we arrived. Just lovely. Oh my gosh, the views! The perfect place for us all to just be, and spend precious time, together. Loved the walks, the cafe at Keld, lunches at the King's Head, cake and homemade lemonade at the tea shop in Gunnerside and swimming at Wain Wath! … Rained every day but who cares! Hope to all be back very soon, especially as we're not too far away! Thank you!
Second time at Strands View. Great location in Swaledale, lovely local pub at The Punch Bowl and wonderful dog walks. Can't wait until our next holiday in Yorkshire!
Lovely comfortable cottage, with great views situated in a tranquil location with easy access to main roads.
Great location and great property for a week walking in the Dales. Very comfortable rooms and good standard of equipment.
Splendor at Strands View! A glorious two weeks here with such comfortable accommodations, stunning setting and premium location for exploring the Yorkshire Dales. Memorable rambles among wildflowers, waterfalls and wildlife, everything exceeded our expectations. Thank you kindly!!!
Amazing house, Amazing garden, Amazing views. We've been coming to Yorkshire for many years and this is the best cottage we've stayed in!
Stunning house, amazing view, loved every minute, such a peaceful place, could not fault it.
Beautiful house - amazing scenery. Thank you!
Thank you - wonderful half term break enjoying this cosy cottage while the winds howled outside - short but beautiful walks between the showers. Top treats are the table football, the EV charger and waking up to the amazing views. Excellent food at the Buck, Reeth.
Thank youf ro giving us the opportunity to stay at your beautiful property. The house is immaculate, the views amazing and the loacl area is breath taking. Will certainly be back and recommend to others.
A great week in teh Dales. Trips to Hawes, Whitby, Richmond, Askrigg. Superb meals at the Punch Bowl in Low Row and Kings Head, Gunnerside. We loved the spacious house, very comfortable, friendly pheasant too!
It may be November but this is a great place and a great location for exploring Swaledale and Wensleydale. Sunday lunch at the CB Inn is our recommendation
Lovely cottage, views and area. Good walks, enjoyed the beer and food at the King's Head! Reeth, Hawes and Richmond worth a visit
Lovely cottage with good facilities and very comfortable.
Spent a super week walking in the Dales, packed lunches, pubs, paddling … visited Ribble Head viaduct, White Scar caves, Forbidden Corner, lots of waterfalls. Beautiful views at breakfast.
Lovely cottage with stunning views. We went to the Forbidden Corner, Richmond Castle, Keld waterfall walk, Ribblehead viaduct. Ingleton waterfalls walk was amazing!
Had a great week exploring the area. Weather good, walking good, food good. House great. Some great walking without having to drive.
Lovely cottage, views and area. Good walks, enjoyed the beer and food at the Kings Head
Beautiful home, an idyllic spot and a haven of peace and tranquility. Many thanks to everyone who has created and takes care of this perfect place.
A wonderful home from home that gives the space and comfort to truly enjoy our holiday - all the more wonderful and special to be together with the family we love most ........ Totally life affirming.
Another superb stay here. Still rate this as one of the very best holiday cottages we've stayed in. Amazing scenery and fabulous walks. Thank you. See you again!
Our son ( 5 1/2 ) loved his cosy bed. Grandparents loved the beautiful views and comforts of the house. Mum and Dad would say you thought of everything and we would love to return!
"What a scorcher! Never experienced the Dales in heat like this. Beautiful cottage, stunning views. Had a wonderful week. Hope to back at Strands View soon."
We have all had a wonderful time the house is very well appointed with enough space for everyone, excellent views, weather and then the snow!
Lovely stay in a beautiful house and setting. We will be back when the leaves are on the trees
"We have a had a fantastic week in this great cottage. Great walking and great pubs. We will be back!"
Perfect family accommodation. We are aged from six months to ninety. Lovely views and local walks. Good food at the Punchbowl. Enjoyed our visit immensely
What a fabulous week - sunshine every day and a fantastic cottage! Wonderful walks. Went to Buttertubs pass and M rode it on his bike!" (Was on Tour de France route). Walked into Gunnerside to the Kings Head for a nice meal - good pub grub!)
Lovely cottage in a fantastic location. Hot and very restful. Good walks, easy walk down to Gunnerside. Good food at the Punch Bowl. Excellent walks throughout the Swale Valley and Wensleydale
Wonderful week - only one day of rain! Cycled new Swale Trail - worth doing. Good meal at Kings Head. Really comfortable accommodation
Wonderful cottage with beautiful views - very relaxing! Enjoyed a fantastic meal at the Kings Head and met the very friendly ''Doug'. The Wensleydale Creamery is definitely worth a visit
An amazing house and beautiful setting. Enabled us to explore the area and spend time as a family
We were here for what we were told was the most snow in 5 years! It was a real winter wonderland outside and lovely and cosy inside. We got exactly what we wanted which is a lovely place to chill and relax in beautiful scenery. Thank you